what we bring to the table
service
working side
by side with you
From the first time we chat to the excitement of installation day, we'll make the design process easy and enjoyable. We'll come see your project in person, then work to bring your vision to life. Just a phone call or email away, your dedicated project manager will handle all the details.
design
a look you'll
absolutely love
The pendulum in commercial interiors has swung from pure function to spaces that offer all the comforts of home—today, it's what business owners and clients prefer. Our brands make modern design livable, bringing an authentic mix of form and function, comfort and style to the table.
price
save 15%

to bring it to life
As a Business Sales client, you'll receive a special discount starting at 15% off, depending on the details of your project. Your sales representative will work with you to create a design that works for your needs and budget.
meet greet lounge
First impressions are important, so make sure it counts. Let your clients and guests know what your business is all about from the moment they walk into your lobby with design that sets the tone and encourages them to get comfortable.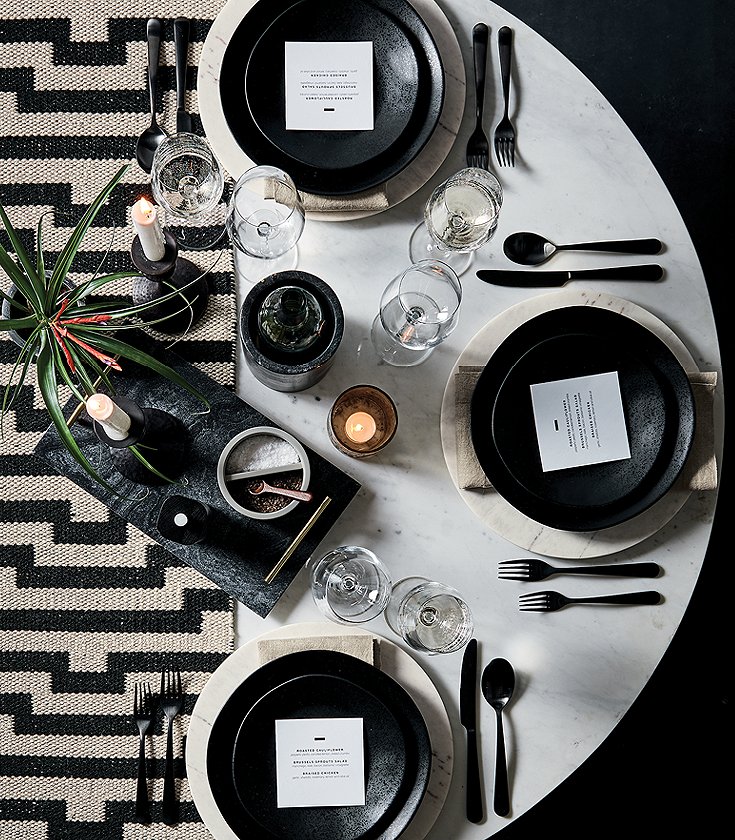 dine drink linger
The world of hospitality runs on passion and drive. Get the details right and show guests how much you care with our modern tableware and furniture, designed to help them feel comfortable and inspired. When it's time to bring your big dreams to life, we can help. Cheers to you and your future success.
go out play unwind
Everyone wants to snag that perfect patio seat on a sunny day. From rooftop lounge to poolside cabana to mountain retreat, let's work together to show your clients just how great the outdoors can be. You bring the stunning location; we'll bring the on-point design ideas.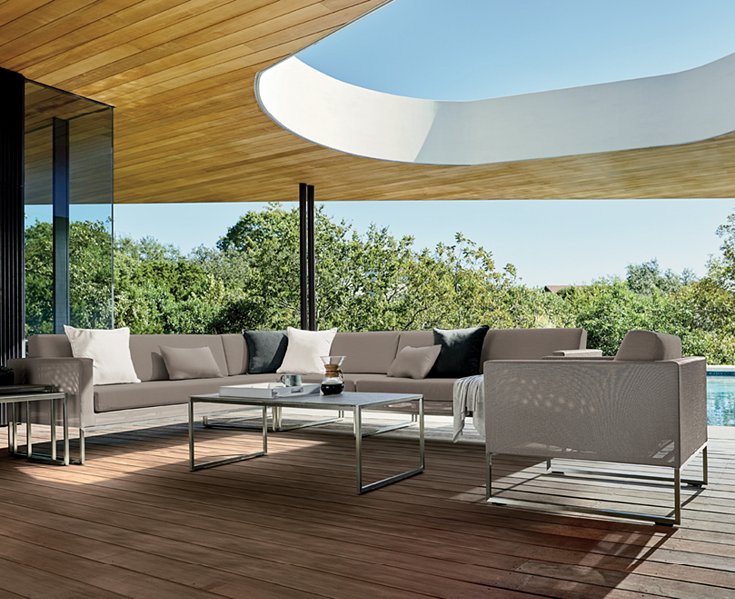 work create collab
Your committed employees spend hefty amounts of time at work, so makes sense for your office to feel more like home. At small and large companies alike, employers are looking for ways to create an inspiring, comfortable and well-designed space—and that's exactly where we come in. Becuase let's face it, 9 to 5 is about more than the grind.
real clients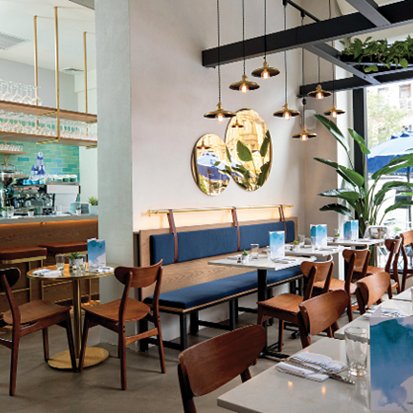 Bluestone Lane
New York, NY
Australian coffee culture has landed in the U.S. with this first outpost of Bluestone Lane, an artisanal brand that aims to open 40 additional locations soon. Seeking a playful, modern look, we played up eye-catching CB2 pieces and added a few Crate and Barrel classics to encourage coffee drinkers to kick back and linger as long as they like.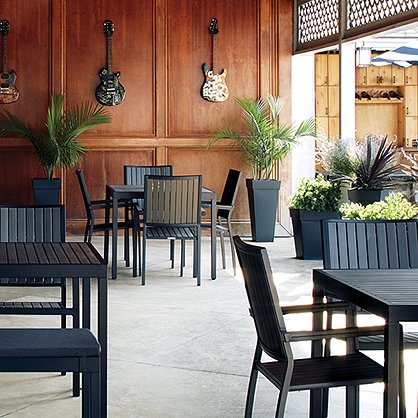 Live Nation
Concert and event venues nationwide
Want to experience the best seats in the house? Check out the indoor and outdoor VIP areas we've designed for event promoter and venue operator Live Nation. Comfortable-meets-cool Crate and Barrel pieces give the spaces an exclusive vibe that's perfect for lounging and listening.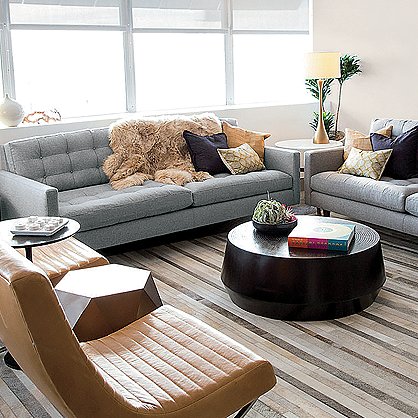 Capitol Records
Los Angeles, CA
Calling all creatives. For a lounge meant to host artists and executives inside the iconic, circular Capitol Records headquarters, we drew on the building's mid-century roots. The result is a space that welcomes VIPs with a bar, stylish laid-back seating and fascinating Capitol Records memorabilia.
goop
Santa Monica, CA
For the headquarters of Gwyneth Paltrow's digital media company, we used CB2 products to create a light-filled, lived-in office space inside a charming Santa Monica bungalow. Our Helix bookcases were installed in multiples to hold goop-branded lifestyle products in development.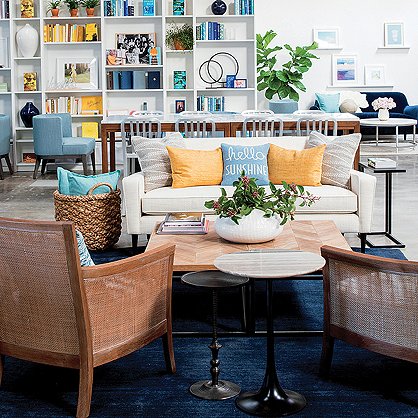 Hello Sunshine
Santa Monica, CA
Dedicated to telling stories by and about women, Reese Witherspoon's media company, Hello Sunshine, wanted a space where creativity could thrive. Filled with Crate and Barrel furniture and decor, the happy look is a mix of blues and neutrals, with bright pops of yellow.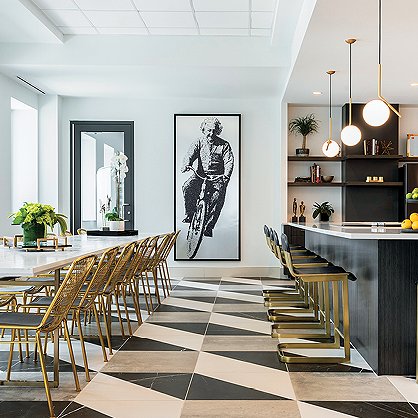 The Star
Houston, TX
Designer Lauren Parsons turned to CB2 to help outfit the 16th-floor lounge at The Star, a development that transformed the iconic Texaco building into 286 luxury rental apartments in downtown Houston. The sleek black-and-brass palette nods to the building's 1915 roots.
Business Gifts and Commercial Furniture
Browse our galleries of items specially chosen to make your business shine. Create a chic and comfortable office, restaurant or hotel with certified commercial furniture and decor from Crate and Barrel. We even offer furniture selections for outdoor commercial areas like restaurant patios and outdoor cafes. We also have a collection of business gifts, as well as elegant and functional serveware options for your next company holiday party, buffet or celebration. Call the Crate and Barrel Business Sales office to shop for business gifts and commercial furniture.
Top